We took the GRS Bifrost in the Blaser R8 7mm Blaser Magnum to Greenland for a Musk Ox and reindeer hunt to test the rifle stocks to the limit!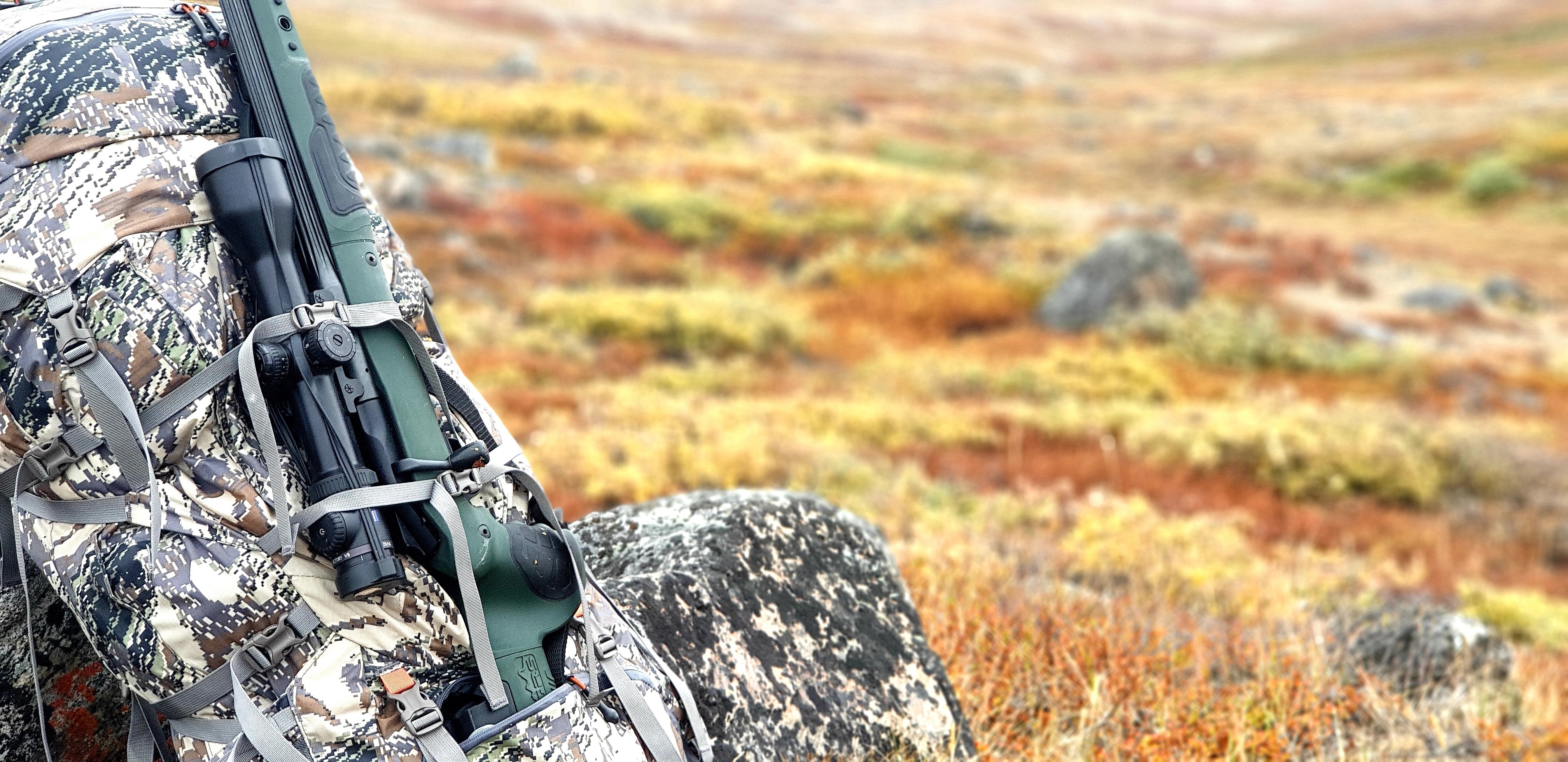 I was never in doubt when I thought about the setup for a hunt in Greenland. The combination needed to be rugged, fit for close range and medium range work. It was time to take the GRS Bifrost to Greenland. The rifle of choice? Blaser R8 in 7mm Blaser Magnum, not the lightest rifle but I don't care. It is very accurate, and the 7BM would be perfect if the range were stretched. We have shot this rifle out to 400 meters on many occasions, I know and trust this combination 100%. The Kestrel 5700 with applied ballistics was in my backpack in case it was windy when the time came to take the shot.
Setup selected:
GRS Bifrost stock (the brown would have blended in more with the colors, its more Brownland than Greenland)
Blaser R8 in 7mm Blaser Magnum
Norma Oryx factory loads, 156 grain

@ 925m/s
Zeiss V8 2.8-20x56 (Bullet drop compensator verified out to 400 meters)
Zeiss 10x56 RF, binoculars with a rangefinder.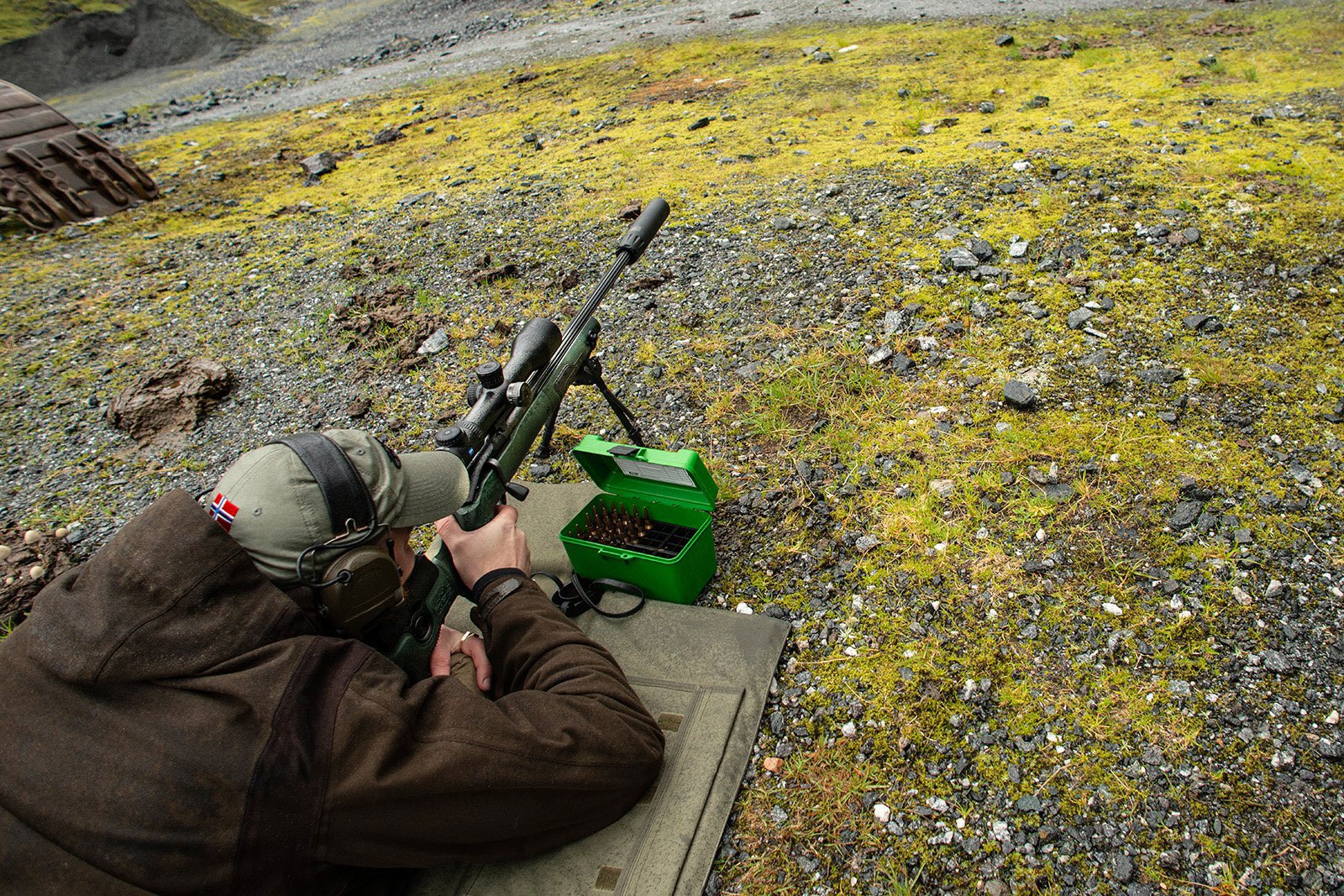 In the video below, you can see how we change the caliber of the R8 rifle.
The hunt.
We would be carrying everything we had on our backs into camp. I must admit the 30kg backpack, and the 10km hike felt much longer than it was. I am not used to this anymore. Temperatures were between 3 and 20* C during the entire trip, which was great!
Other vital gear i chose for this trip.
Sitka Mountain Hauler 6200 backpack, very comfortable and solid design.

Bestard Arctic Grip boots, best boots I have ever used!
Sasta Outer clothing, with and without Goretex, did not use the Goretex clothes, I prefer to use without if I can.
Brynje Wool longs, combat shirt and Antarctic Jacket with hood. Awesome bit of warm kit.
My beloved Carinthia Defence 4 Sleeping Bag. Slept like a baby.
After the 10Km hike, we have a 20-minute boat ride over a lake, then another 10 minutes on foot. On the way over the lake I spotted a lonely Musk Ox on the side of the lake about 1000 meters out. The crew was notified, and as we got closer it was decided to stalk him. Because it was my spot I was urged to take it.

My mind started immediately to work on the task, filling the magazine, looking for wind indicators in case it was a long shot, shot placement, my BRASS routine and so on. We walked behind a small hill in the direction we saw him, the wind was in our favor, and when we saw him, he was about 170 meters from us. He was about a seven-year-old Ox, medium-sized body and both horns were there. Musk Ox have brutal fights so worn down, and broken horns are quite common.
In hunting, as you know, you should use the opportunities presented to you, so I decided this was my ox. You never know if this was the only chance you had on one of these, for all we know the rest of our days could be spent in the tent in a blizzard.
We snuck up to 139 meters, I asked Thomas our guide for the range. I adjusted the BDC to 150m on the Zeiss V8, wrapped the sling around my left hand and settled in the prone position. The ground was covered in thick moss, so it was quite a comfortable position. My scope was set to 11X magnification, so I saw the musk ox in detail, but still I could see the whole animal, this way, I would see if he was thinking of moving.
He was facing us quartering to the right. I followed the leg up to the centerline of the body, gave it 10 cm to the right toward the front of his chest, cocked the rifle and started my BRASS. Breath, Relax, Aim, Slack, Squeeze.
It takes 6-7 seconds to go through, once the shot breaks I am in my bubble only focused on the task at hand. We heard the thump, and the Ox gave clear indications the shot placement was good. He buckled forward and spun around his axis. The second cartridge was already in the chamber. When he stopped, he was facing the same way, so I gave him a second shot right on the shoulder. He fell almost immediately and did not move after that. I went over to the Musk Ox and thanked him. It is something i always do.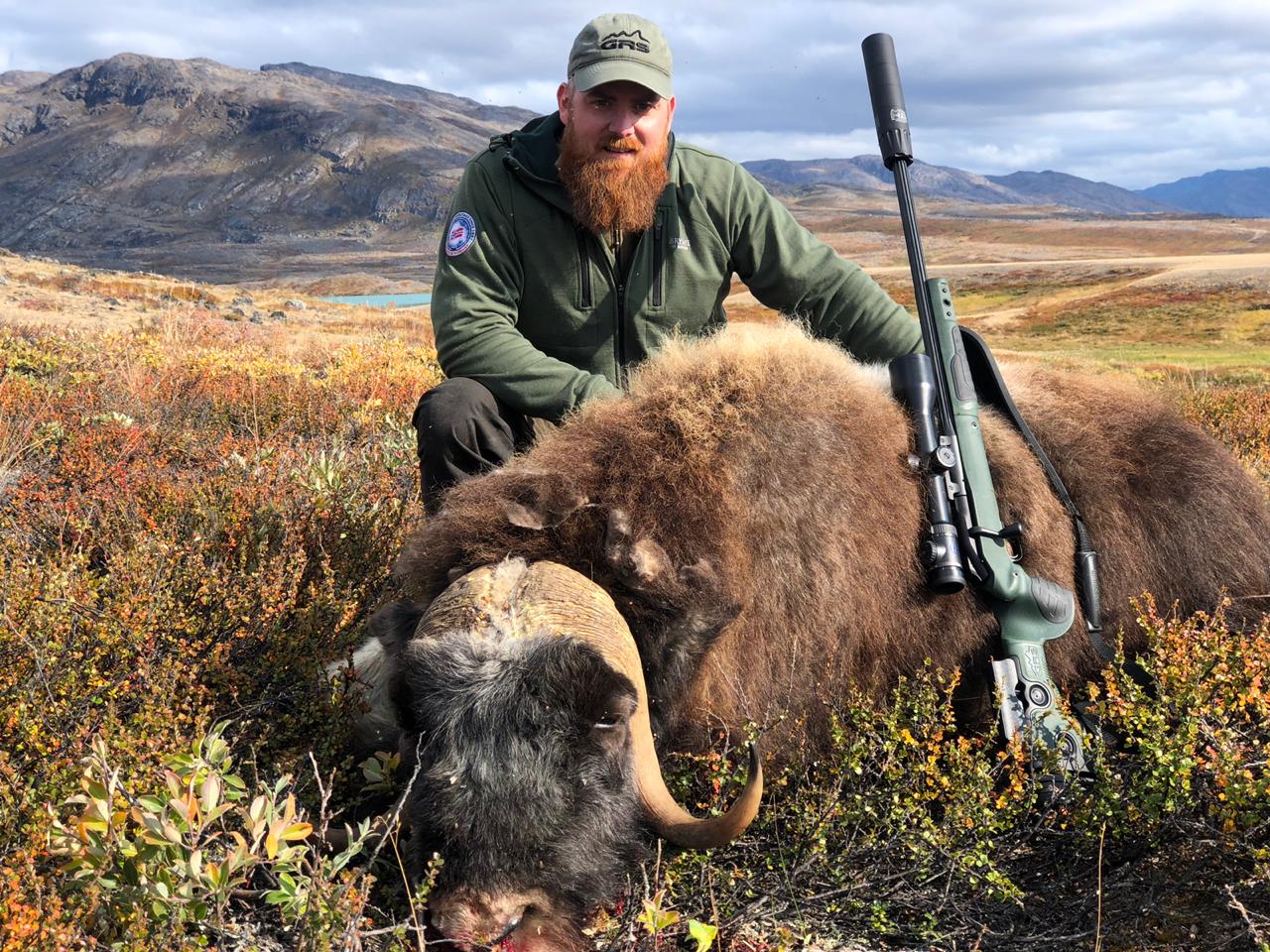 The beauty of shooting with a silencer is that it does not scare away other aminals that much. Five minutes after my Ox was down, Marco Van Niekerk started his stalk, ten minutes after, he had his Musk Ox as well. Same size and age as mine. It was an epic start to 4 days in the mountains without any cell service. It was bliss to be completely unplugged from the rest of the world.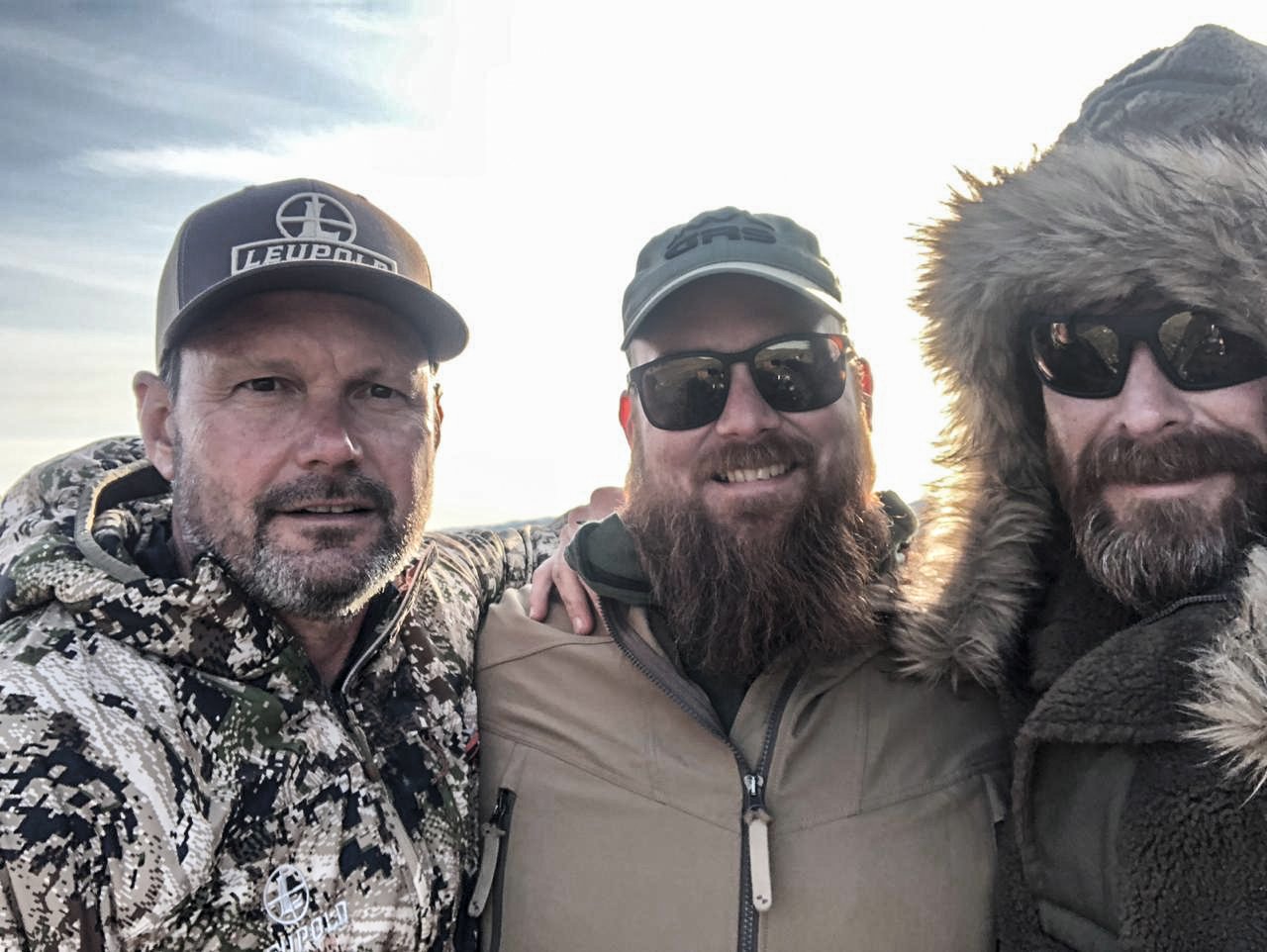 The group from left to right. Bruce Pettet, CEO of Leupold (USA) Oscar Haugen, CEO of GRS Riflestocks AS, and Marco Van Niekerk, CEO of Outdoor Investment Holdings (South Africa)
The days after Bruce shot his Musk Ox and Marco shot a Reindeer.
It was a memorable hunt; at one time we counted almost 100 Musk Ox in one valley alone. This was truly a paradise for them and i can see why our guide chose the spot for the camp that he did.
These tough beasts of the north is a sight to see. The next challenge would be a winter hunt with temperatures down to -40*c
Would I change something in my setup?
No, it all worked as I planned!
Apart from a few things I would drop from my overweight Sitka Mountain Hauler 6200, the gear i brought worked well beyond what I expected.
If you want to make a trip like this, my suggestion for preparation would be as follows:
Train with your rifle out to 400 meters; the Reindeer especially is skittish, it's normal to take a 300 meter shot and you want to feel confident.
Get into shape. You will enjoy the trip much more if you are fit and can concentrate on what goes on around you compared to just coping.
Use layers. We Norwegians love wool and for a good reason. It is warm when dry and when wet. It transports sweat well. Use a windproof jacket on top when you stop to glass for animals.
Use boots you have used before, so you know they fit your foot.
Bring camp flip flops or shoes. It is so good to have something else than your heavy boots. These need to dry out when you get into camp.
Use a sleeping bag rated well below what you can expect in temperature. You can endure a lot of freezing during the day. It is a mental booster to know you have a warm sleeping bag to come home too.
Document the trip with video and pictures :)
Did you like this blogpost? Share it with others, and remember to follow us on Instagram, Facebook and YouTube!
All the best.
Oscar Haugen
CEO GRS Riflestocks AS